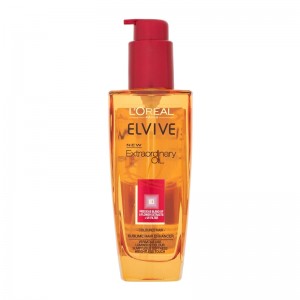 Hair type: colour-treated, dry, damaged
Scalp: sensitive, dry and normal
Properties: moisturising, repairing, strengthening
Formula: silicones and oils
Bottle: pump bottle
Capacity: 100 – 250 ml
Elvive Extraordinary Oil is recommended for colour-treated, dry and damaged hair. It also works for sensitive, dry and normal scalp. You must test it.
When to use Elvive Extraordinary Oil?
Use nourishing elixir Extraordinary Oil if you often have your hair coloured and regularly use heat styling. The cosmetic is useful for repairing dry and damaged strands. If you're a fan of blow-drying, straightening and curling, this product is for you.
What are the properties of Elvive Extraordinary Oil?
Action of Extraordinary Oil Nourishing Elixir comes from the components included. It is abounding in vegetable oils. Flaxseed oil nourishes and delivers lots of vitamins and minerals. Camomile and sunflower oils bring shine and softness. Lotus oil protects from UV rays and free radicals.
Tiare flower oil shields hair and scalp from getting dry. Rose oil delivers elasticity.
How to use Elvive Extraordinary Oil?
You must follow some steps to enjoy the effects of Elvive Extraordinary Oil. First of all, wash your hair with a purifying shampoo. Then, apply a hair conditioner that will intensify the action of the oil. After the time given by the manufacturer, wash your hair and apply Extraordinary Oil. One pump is enough to fully nourish, repair and strengthen hair.
Advantages:
works for dry and colour-treated hair
provides heat protection
contains a few vegetable oils
regenerates and strengthens
available in large bottles
Disadvantages:
contains silicones which may clog skin pores and hair cuticles
applied to dirty hair, it won't bring desired effects
in combination with Elvive shampoo and conditioner, it provides the best effects
not recommended for oily scalp