Pamper Your Hair: Choose Nanoil Keratin Hair Mask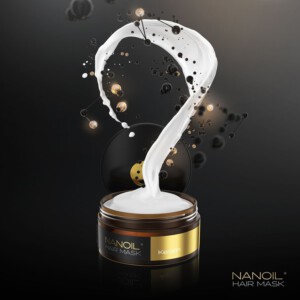 Every day our hair is exposed to mechanical damage and the adverse effect of environmental assault. Are you doing your best to keep the strands healthy but they are still damaged and static? In such cases regular hair conditioners may appear to be completely powerless. Your hair needs in-depth repair. You can do it with Nanoil keratin-dense hair mask.
What is keratin?
In plain English, keratin is a protein that occurs naturally in the human body. It's the main constituent of the hair, skin and fingernails. When the levels of keratin in the body are low, this may cause hair damage, yet most of all such shortages make hair awfully brittle. How to supply our strands with keratin? The best effects are achieved with hydrolyzed keratin that is able to penetrate hair deeper. Where to find hydrolyzed keratin? For example, in Nanoil Keratin Hair Mask.
What makes Nanoil Keratin Hair Mask a good choice?
Keratin hair mask launched by Nanoil is a product formulated with the highest quality ingredients that allow you to fully reconstruct the hair focusing even on its innermost structures. The key ingredients responsible for improving the look of the hair are keratin and panthenol, that is provitamin B5. Both substances handle the same task, which means that they are the main building blocks of the hair, which damaged strands lack, naturally. In Nanoil hair mask, the molecules of keratin and panthenol are so small that hair easily absorb them and transport within to repair all kinds of damage and promote fast hair repair.
Do you think that your hair are too weak to be reconstructed? You can't be further from the truth because there is a proven hair care product out there that will help you get the fabulous and strong tresses you want to have, and the very product is Nanoil Keratin Hair Mask.
How does Nanoil Keratin Hair Mask work?
There is nothing that you put at stake when treating your hair with this professional hair mask by Nanoil. The huge portion of keratin that this mask is formulated with leaves the strands nourished, stronger, repaired and glossy. The hair ends stop splitting so your entire hairdo can win this healthy-looking appearance. Apart from this, the strands gain beautiful shine and are provided with damage protection.
Nanoil Keratin Hair Mask – application
There are few as easy tasks as application of Nanoil Keratin Hair Mask. This product's consistency allow you to spread the mask easily all over the hair. Once the cosmetic is covering the strands, let it sit for 20 minutes. Rinse afterwards. Now, you can enjoy gorgeously-looking hair that you have always wanted to have.
Comments on keratin hair mask by Nanoil
You won't find any unfavorable reviews on Nanoil Keratin Hair Mask. The users are happy with the qualities of this product and the positive results that are easy to achieve – this product just doesn't let down. Owing to the hydrolyzed keratin and panthenol Nanoil Keratin Hair Mask works to improve the looks of the hair with doubled power. Although first effects are plain to see after just one use, the hair gets amazing when the mask is used on a regular basis.
Take care of your hair today! Choose the best product – keratin-dense hair mask! You will restore the good-looks to your strands, even if they have been exposed to the hair treatments that in the end caused it more harm than good. With Nanoil Keratin Hair Mask you can take shine and thick hair for granted.
If your hair needs to be given protection, repair and support, choose the liquid hair reconstruction that Nanoil hair care products have in store for you!
It's worth realizing though that Nanoil Keratin Hair Mask isn't destined mainly for damaged hair since it's also able to help weak strands with splitting ends that aren't fully resistant to damage.
Take care of your hair. Choose Nanoil Keratin Hair Mask!
More information on Nanoil Keratin Hair Mask and other Nanoil hair care products can be found here: nanoil.co.uk