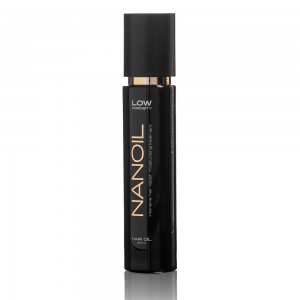 Hair type: low, medium and high porosity hair
Scalp: any
Properties: lots of properties; universal action matching every hair and scalp type
Formula: semi-fluid oil
Bottle: glass, pump bottle
Capacity: 100 ml
Everyone can start using Nanoil Hair Oil, regardless of their hair porosity. There are three versions of the product: for low, medium and high porosity hair. If you are interested in full scalp care, Nanoil Hair Oil will surely make it a lot easier. See it for yourself.
When to use Nanoil Hair Oil?
Do it if healthy and beautiful hair is your goal. Reach out for Nanoil when your hair ends start splitting whereas the scalp is oily. What is more, Nanoil Hair Oil aids dull, static, weak and difficult-to-style hair. If you have noticed dandruff or irritation on your scalp, apply Nanoil. It will help you deal with such problems.
What are the properties of Nanoil Hair Oil?
Nanoil works universally: nourishes both your hair and scalp. The version for high porosity hair regenerates, nourishes and reinforces your strands and hair bulbs. Hair is less prone to damage and falling out. Thanks to Nanoil Hair Oil, your hair is smoother, shinier and softer to the touch. Nanoil For Medium Porosity Hair moisturises, rebuilds and delivers elasticity.
Moreover, it increases shine, adds softness, reduces frizz. Hair is easier to style and detangle.
How to use Nanoil Hair Oil?
Nanoil Hair Oil can be used in many different ways. Apply it before or after washing your hair. It works great as a serum for protecting hair ends or a nourishing scalp treatment. Interestingly, men can use Nanoil for beard and moustache care.
Advantages:
it has a lightweight formula absorbed right after the application
the oil can be used in several ways
large capacity
the oil moisturises, nourishes and adds shine
it restores pH in the scalp
it contains lots of natural ingredients
it strengthens hair bulbs and prevents hair loss
the oil eases styling and brushing
Disadvantages:
fingerprints are visible on the bottle
more on website: www.nanoil.co.uk